Arts Unplugged
Building an Ark
A Conversation with ArtistLaurie Andersonon Innovation & Storytelling
The College of Arts & Sciences' Arts Unplugged series brings research and creative works into the public sphere for discussion and inspiration. These outreach events invite a broad audience to explore the work of scholars and faculty from all disciplines, all backgrounds and all time periods and to celebrate the impact that work continues to have on our daily lives.
Building an Ark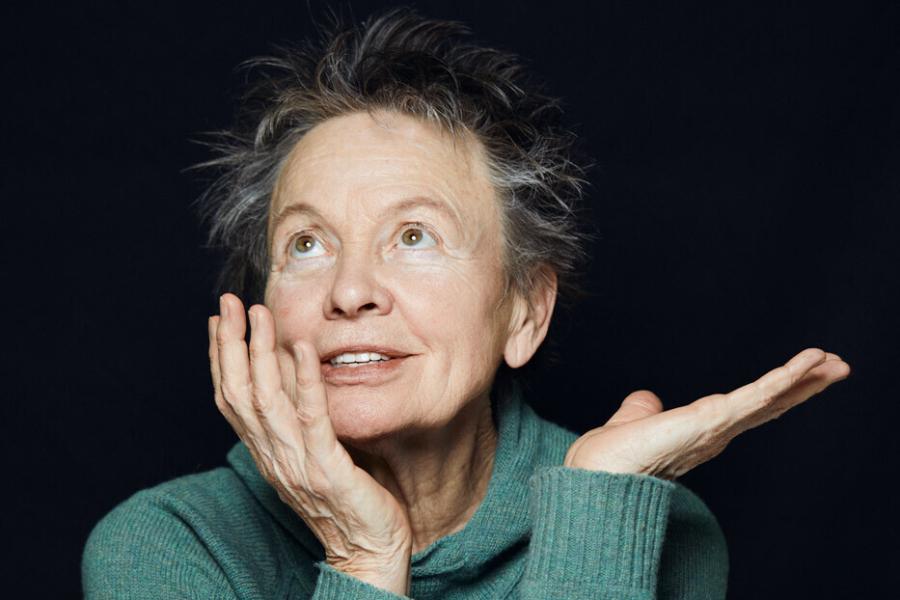 Building an Ark: A Conversation with Pioneering Artist Laurie Anderson on Innovation and Storytelling
Tuesday, September 26, 7:30pm
Schwartz Center for Performing Arts, Kiplinger Theatre
THIS EVENT IS SOLD OUT AND THE WAITLIST IS FULL!

The College of Arts & Sciences is thrilled to host multimedia artist Laurie Anderson for our fall Arts Unplugged event, which brings research and creative works into the public sphere for discussion and inspiration.
Our Sept. 26 event will feature a conversation between Anderson and Music Professor Judith Peraino, set to begin at 7:30 p.m. in the Kiplinger Theater of the Schwartz Center for the Performing Arts, 430 College Ave. The pair will explore the arc of Anderson's creative career, discuss the intersection of technological and artistic innovation, and offer some glimpses into Anderson's next project.
Tickets are free, but should be secured on Eventbrite. THIS EVENT IS ALREADY SOLD OUT, but we encourage you to sign up for the waitlist on Eventbrite, as we anticipate a number of no-shows that night.
Cornell Cinema screenings
In preparation for Anderson's visit, Cornell Cinema will be showing three films by and about Anderson during the month of September:
These screenings are free and open to the public. Order your tickets at the links above or visit the Cornell Cinema website.
New to Laurie Anderson's work? Take a look at the following videos
Take part in the "To the Moon" Virtual Reality Experience
For three weeks surrounding Laurie Anderson's visit to campus, members of the Cornell community will have the chance to explore Laurie Anderson and Hsin-Chien Huang's atmospheric "To the Moon" virtual reality experience at Cornell's Center for Teaching Innovation, Room 123, 118 Computing and Communications Center on the Ag Quad.
The VR experience uses images and ideas from literature, science, science-fiction space movies and politics to create a dark new version of the moon. During the 15-minute experience, the viewer is shot out from Earth, walks on the surface of the moon, soars through space debris and summits a lunar mountain. "To the Moon" has been exhibited at the Public Theatre and the Smithsonian Museum.
The experience will be open from Sept. 18 through Oct. 6. Space is limited and priority will be given to Cornell students.
Click here to sign up for the "To The Moon" VR Experience.
This exhibit is sponsored by the College of Arts & Sciences, the Milstein Program for Technology & Humanity, the Music Department, the Department of Performing & Media Arts, the Center for Teaching Innovation the Media Studies Program, the Society for the Humanities and the Department of Design Tech.
News about Arts Unplugged
Past Events
Past Events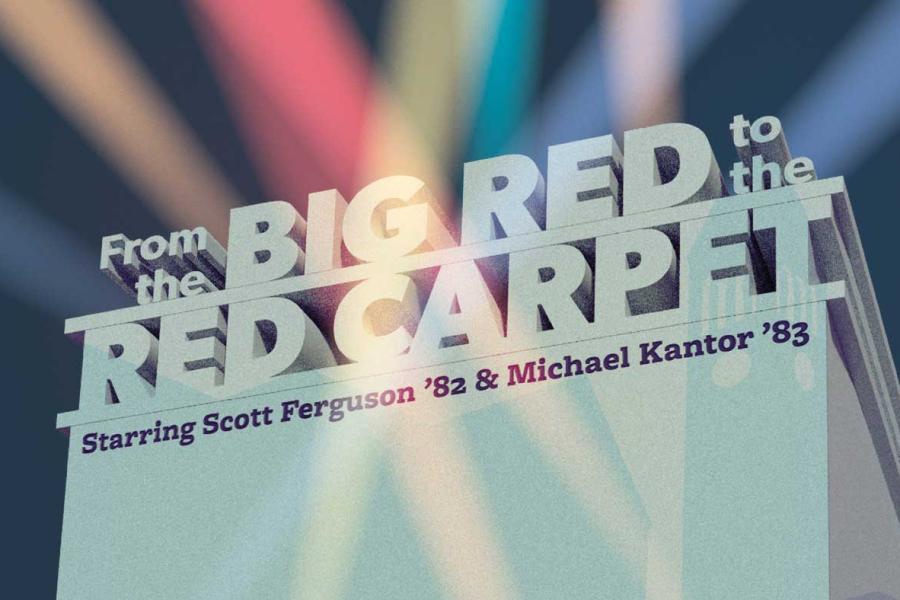 From the Big Red to the Red Carpet: A two-day visit with alumni filmmakers Scott Ferguson '82 and Michael Kantor '83
Cornell alums Scott Ferguson and Michael Kantor reflected on their award-winning careers in film and television production. The pair — Cornell classmates — discussed their parallel paths in narrative and documentary filmmaking from their student days at Cornell to their current roles as executive producers of HBO's "Succession" and the PBS series "American Masters," respectively.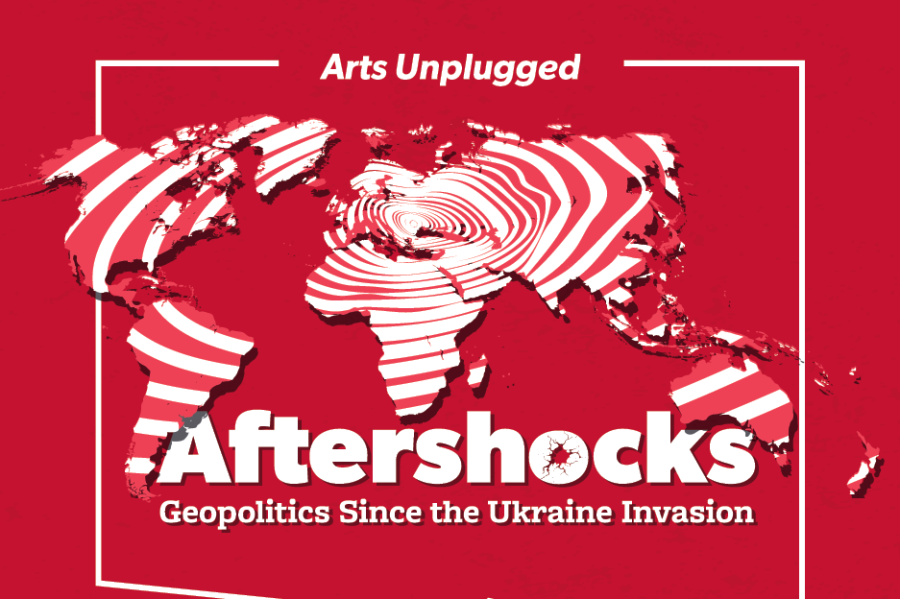 Aftershocks: Geopolitics Since the Ukraine Invasion 
As the war in Ukraine raged on, we hosted a panel of leading journalists and scholars covering Russia, Europe, China and the global political landscape, who discussed how international relations, security, trade and economics are shifting in ways not seen since World War II.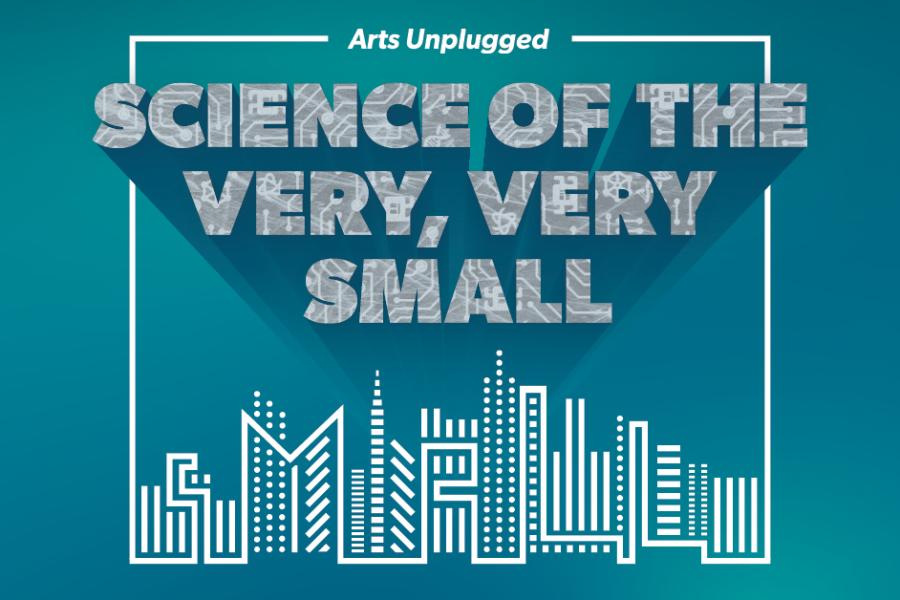 Science of the Very, Very Small 
The "science of the very, very small" offered possible solutions for everything from the energy crisis to disease. Ideas that once existed only in science fiction are becoming reality and Cornell scientists are leading the way in nanoscale and quantum materials research. In this virtual Arts Unplugged, we explored some of these exciting innovations – and their ramifications for human society.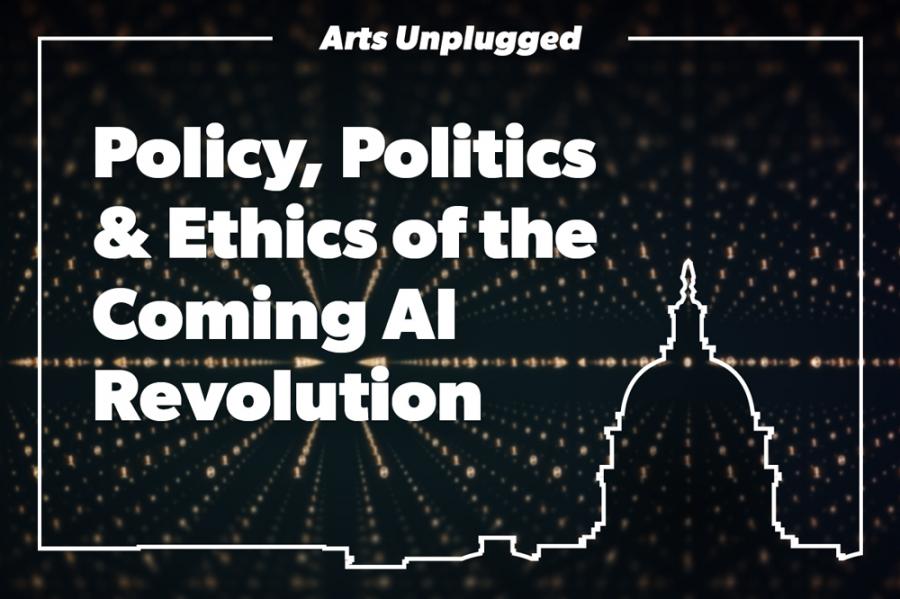 Policy, Politics and Ethics of the Coming AI Revolution
This interactive discussion with leading experts focused on the enormous changes and considerations of how we can enact policy that supports democracy and an ethical society as AI technology continues to expand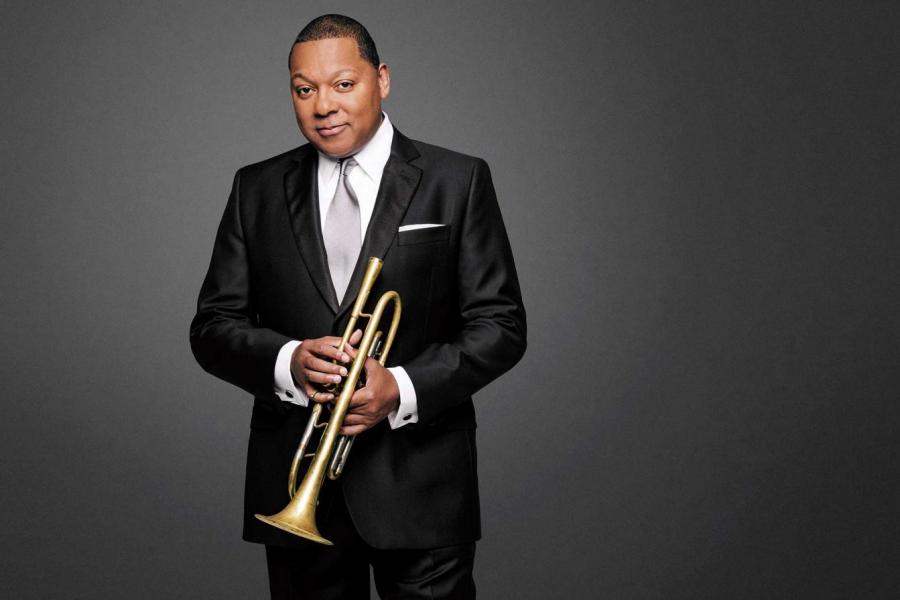 An Evening with A.D. White Professor at Large Wynton Marsalis and the Cornell Wind Symphony
Cornell welcomed Pulitzer and Grammy-winning artist Wynton Marsalis as A.D. White Professor-at-Large for a concert with the Cornell Wind Symphony on Nov. 6, 2021.  The concert at Bailey Hall was conducted by Barbara & Richard T. Silver '50, MD '53 Assistant Professor of Music James Spinazzola, along with Marsalis and his rhythm section. They performed a wide-ranging program including ragtime, blues, and jazz. Marsalis also offered a talk, "The University's Place in Promoting American Democracy in the Disciplines."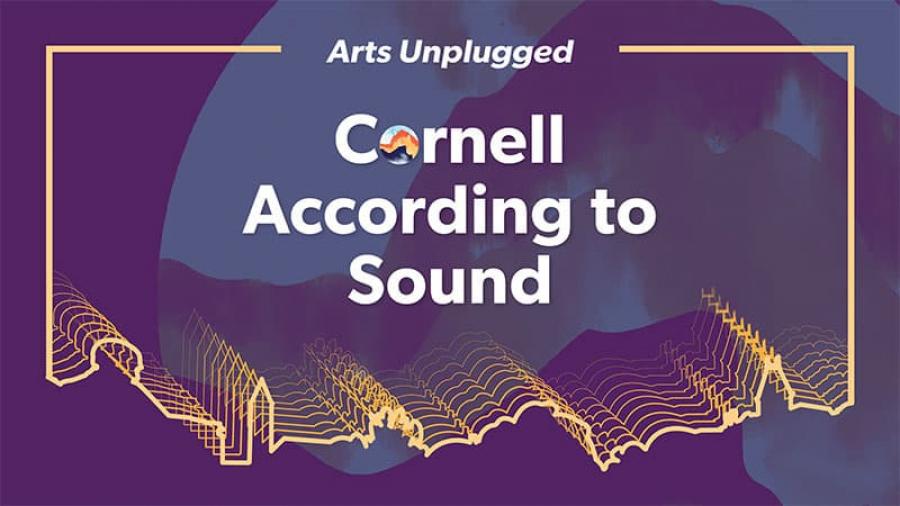 Cornell According to Sound
Our third event in the series featured a sonic look at campus, brought to us by Chris Hoff '02 and Sam Harnett, creators of The World According to Sound. The duo spent the fall semester finding and recording sounds across the university – from fish and frogs, to Latin speakers and dirt. Along with four performances at the Schwartz Center, listeners were able to visit five pop-up listening stations across campus to help them become more aware about the role and impact of sound in their lives.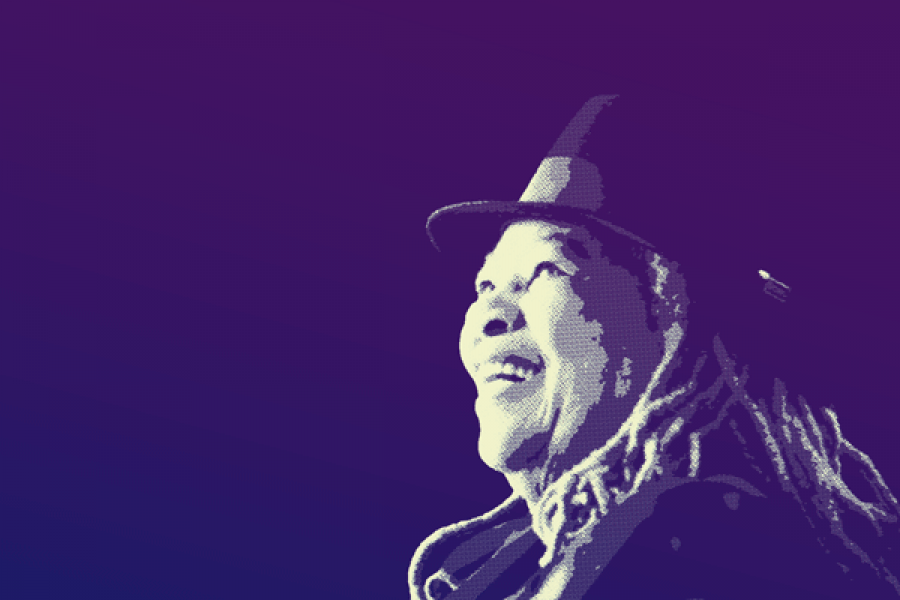 Cornell Celebrates Toni Morrison
The College hosted a yearlong series honoring our beloved alumna and literary icon on the 50th anniversary of her first book, "The Bluest Eye." Events included a "Toni Morrison at 90" colloquium to honor Morrison's 90th birthday, a reading of "The Bluest Eye," which included authors Ta-Nehisi Coates, Tayari Jones and Edwidge Danticat, activist Angela Davis, poets Sonia Sanchez and Kevin Young, as well as U.S. Poet Laureate Joy Harjo. Other events virtual screening of "The Pieces I Am," a documentary of Morrison's life at Ithaca's Cinemapolis theatre, an exhibit at Cornell University Libraries and a quilting project.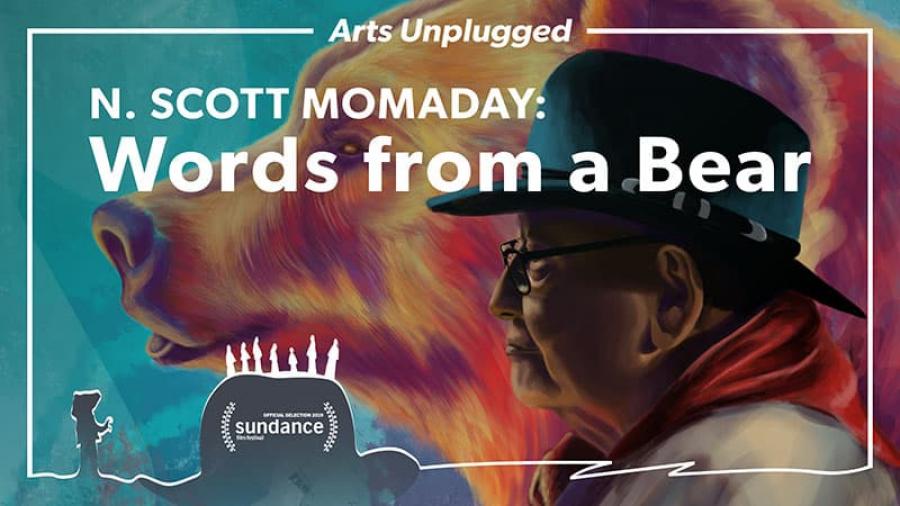 Words from a Bear
Cornell's newest film professor, Jeff Palmer, shared advice for creating a Sundance documentary and screened his latest feature film during our second Arts Unplugged event at the Schwartz Center for the Performing Arts. "Words from a Bear," Palmer's first feature film, explores the creative works of N. Scott Momaday. Our event also included a talk by Gus Palmer, professor emeritus at the University of Oklahoma, and one of the narrators of the film.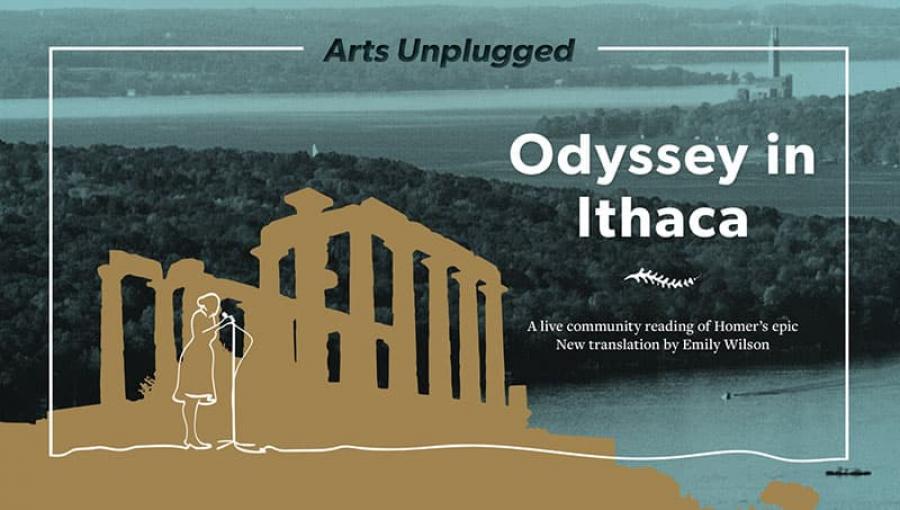 Odyssey in Ithaca
From tales of sinking ships to murderous fights to bedroom shenanigans, a cast of 75 readers told the story of Homer's "Odyssey" during a daylong event in Klarman Hall, our inaugural Arts Unplugged event. The reading, spearheaded by Athena Kirk, assistant professor of classics, featured speakers from the community and local colleges, state and local representatives, as well as special audio segments from Annie Lewandowski, senior lecturer in music.