There is, perhaps, no Cornell faculty member more deserving of a festschrift than the late, legendary historian Walter LaFeber.
The German term—which translates as "feast writing"—refers to a collection of papers by multiple authors, written as a tribute to a noted scholar.
Typically created upon retirement and presented at a conference or symposium, it celebrates the academic's long career, research contributions, and impact on former students and society at large.
For LaFeber—who taught on the Hill for nearly a half century (from 1959–2004) and who passed away at age 87 in 2021—that impact was immense.
His famed lectures were events, attended by hundreds of thousands of students over the years. He influenced decades of thought leaders in foreign affairs, diplomacy, and academia—authoring or co-authoring 20 books (including the well-known textbook The American Age) and appearing regularly in the media, offering a historian's insight on U.S. global relations.
In late October, a cadre of just over a dozen of LaFeber's former students—referring to themselves fondly as the "LaFeber posse"—gathered on the Ithaca campus to workshop their essays and chapters for the festschrift, to be published by Cornell University Press and which will also be available as an open-access ebook.
They also developed plans for a companion conference, which is set for next fall (October 27–29, 2023) on the Cornell Tech campus in New York City and will be open to the public.
Its title—"Thinking Otherwise: Walter LaFeber and American Foreign Relations in a Changing World"—derives from a phrase, attributed to Cornell historian Carl Becker, that LaFeber liked to cite: "A professor is someone who thinks otherwise."
The festschrift and conference (for which details will be forthcoming) will occur in what would have been LaFeber's 90th birthday year, as well as the 60th anniversary of the publication of his first book, The New Empire.
"When Walt died, a number of us got together and started talking about what we could do to memorialize the individual who had been our favorite teacher," says Richard Immerman '71, an emeritus professor of history at Temple University. "He was all of our favorite, and that in itself was really quite exceptional—but so was he."
Andrew Tisch '71—co-chair of Loews Corp., a philanthropist, and an emeritus University trustee—recalls how he first discovered LaFeber's foreign policy course as an undergraduate. He was having coffee with a friend, who quickly finished and told Tisch he was "going to Walt."
"It wasn't, 'I'm going to hear Professor LaFeber,'" Tisch recalls. "It was just, 'I'm going to Walt.' I said, 'What's Walt?'"
Tisch ended up tagging along, and was hooked. Even though he was a Hotelie with a full schedule and couldn't transfer into the class, Tisch ended up auditing both semesters.
For decades, that course packed auditoriums on Tuesdays, Thursdays, and—amazingly—Saturdays.
With an outline of the lecture on a blackboard behind him, LaFeber would speak without notes, bringing to life that day's journey through U.S. history, influence, and foreign relations. Each session typically ended with a standing ovation.
It was such a draw that students often brought their weekend guests—whether visiting parents or significant others—to the Saturday morning lectures.
Tisch notes, only half in jest, that LaFeber's class probably nurtured quite a few romances: "The great pickup line was, 'Do you want to stay over and go hear Walt tomorrow?'"
Immerman, for one, has a theory about the course's massive enrollment in the '60s and '70s.
"It was the middle of the Vietnam War," he says. "We all wanted to learn about foreign policy."
Adds Tisch: "The world was going to hell, and we wanted to understand why."
Several of LaFeber's students went on to become noted figures in U.S. foreign policy, including the late Sandy Berger '67 (national security adviser to President Bill Clinton), Stephen Hadley '69 (national security adviser to President George W. Bush), Eric Edelman '72 (former ambassador to Turkey and undersecretary of defense), and Tom Downey '70 (a former longtime member of Congress).
For the U.S. bicentennial year in 1976, Cornell President Dale Corson broke with tradition by asking LaFeber to deliver the Commencement address to that year's graduates.
And in the days following the September 11, 2001 terrorist attacks, President Hunter Rawlings III asked him to speak at the National Day of Prayer and Remembrance, held on the Arts Quad with some 12,000 people in attendance.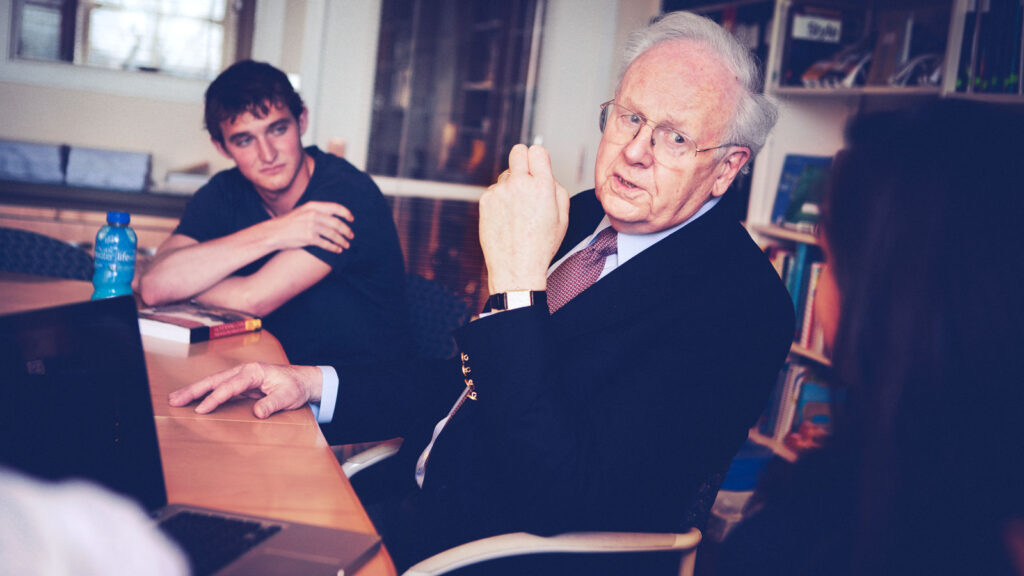 Tisch notes that LaFeber's influence went far beyond the relatively small number of his students who went into careers in government or foreign policy.
"I represent the other 98 percent," he says. "It gave me a lifelong passion for understanding government, governance, and diplomacy."
Adds Immerman: "Walt LaFeber changed our lives."
In 2002, Tisch and his brother (James Tisch '75) endowed a professorship in their names, aimed at keeping senior faculty in the classroom even beyond retirement. LaFeber, its inspiration, was also its first recipient.
(After LaFeber's death, Tisch and his wife gave a gift to name a professorship in his honor in Arts & Sciences; it's currently held by Tom Pepinsky.)
LaFeber gave a farewell lecture in 2006—packing the Beacon Theatre in New York City.
Nearly 3,000 alumni, faculty, and friends attended his talk, "A Half-Century of Friends, Foreign Policy, and Great Losers."
It was delivered, of course, without notes.
Editor's note: A tribute website, an online archive, and an oral history project are also in the works. For more information, or to share memories of LaFeber, email Richard Immerman '71 or Doug Little, PhD '78.
More News from A&S