Visits/Information Sessions
The undergraduate admissions offices across Cornell University continue to offer prospective students, their families and advocates the opportunity to meet virtually through live sessions and recordings, in addition to campus programs. Before planning a trip to our Ithaca campus, please review up-to-date visitor information, Cornell's mask policy, and public health guidance. 
Please note that Cornell University does not track demonstrated interest. Visiting campus is neither required nor expected of applicants. Students can articulate their fit and interest in the College of Arts & Sciences through the Cornell-specific supplemental essay in their application.
In-Person Information Sessions, Cornell University Campus
Friday, June 23, 2023, 11:00 am – 12:00 pm
Friday, July 7, 2023, 11:00 am – 12:00 pm
Friday, July 21, 2023, 11:00 am – 12:00 pm
Friday, August 4, 2023, 11:00 am – 12:00 pm
Virtual Information Sessions, via Zoom webinar
More information coming soon!
Visit A&S Virtually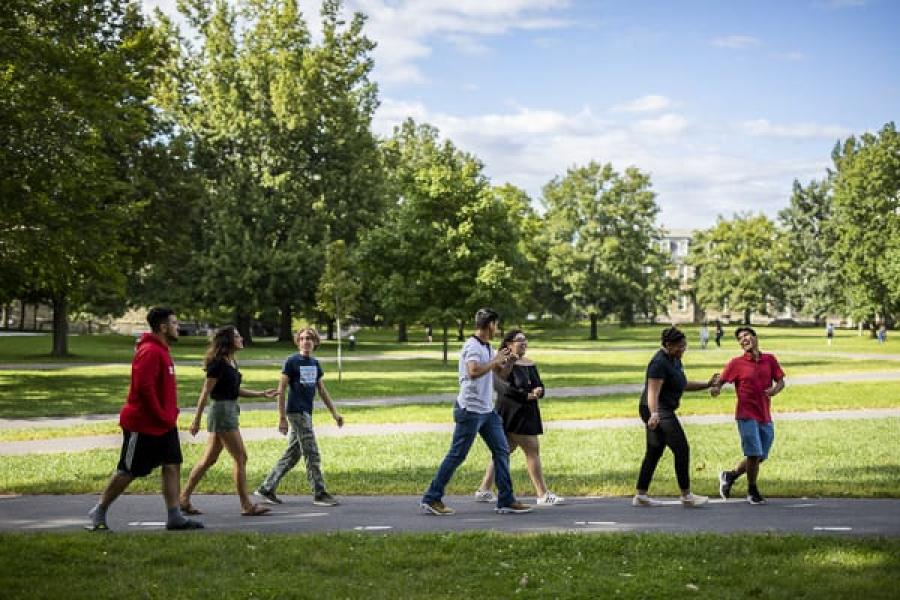 Visit us… virtually!
Find out more about the 41 majors you can choose from, the fascinating faculty research projects you can join and the support network of people who will you advise you on your journey in the College of Arts & Sciences. Plus, learn more about how to apply.
Watch our full 4-part information session videos now, or choose the section that interests you most below.
Connect with Us
In addition to joining our live events and viewing our Information Session, we encourage you to:
Welcome to the center of Cornell
An introduction to the College of Arts & Sciences
As the largest college at Cornell, Arts & Sciences offers you access to an uncommonly diverse range of academic and research opportunities. In addition to our 2,000+ courses, you'll have access to more than 2,000 additional courses in Cornell's six other professional and applied colleges and schools.
An innovative and engaged curriculum
Classes that stretch your mind, support for your journey
Faculty in the College create innovative classes that encourage you to explore your interests broadly across the College and throughout Cornell. With up to two years before you declare a major, your educational path will be defined by structured flexibility and guided by your own academic interests.
Advice, mentorship and council
Support for your academic and personal journey
As a student in the College of Arts & Sciences, you will join our community of scholars, known for our intellectual rigor and engaged in deep and broad research. You will also have the chance to take advantage of many unique academic opportunities available only to our students.
As you make your way through Cornell, you will be supported by a faculty advisor, advising dean and student ambassador. Whether your interests are focused or varied, A&S advisors will help you select an inspiring and balanced schedule, and a rewarding college career path.
Time to apply
The application process, and what we look for
Admissions advisors are looking for academic excellence, intellectual curiosity, your commitment to a liberal arts education and your demonstrated record of having a positive impact on your community.
Explore the College