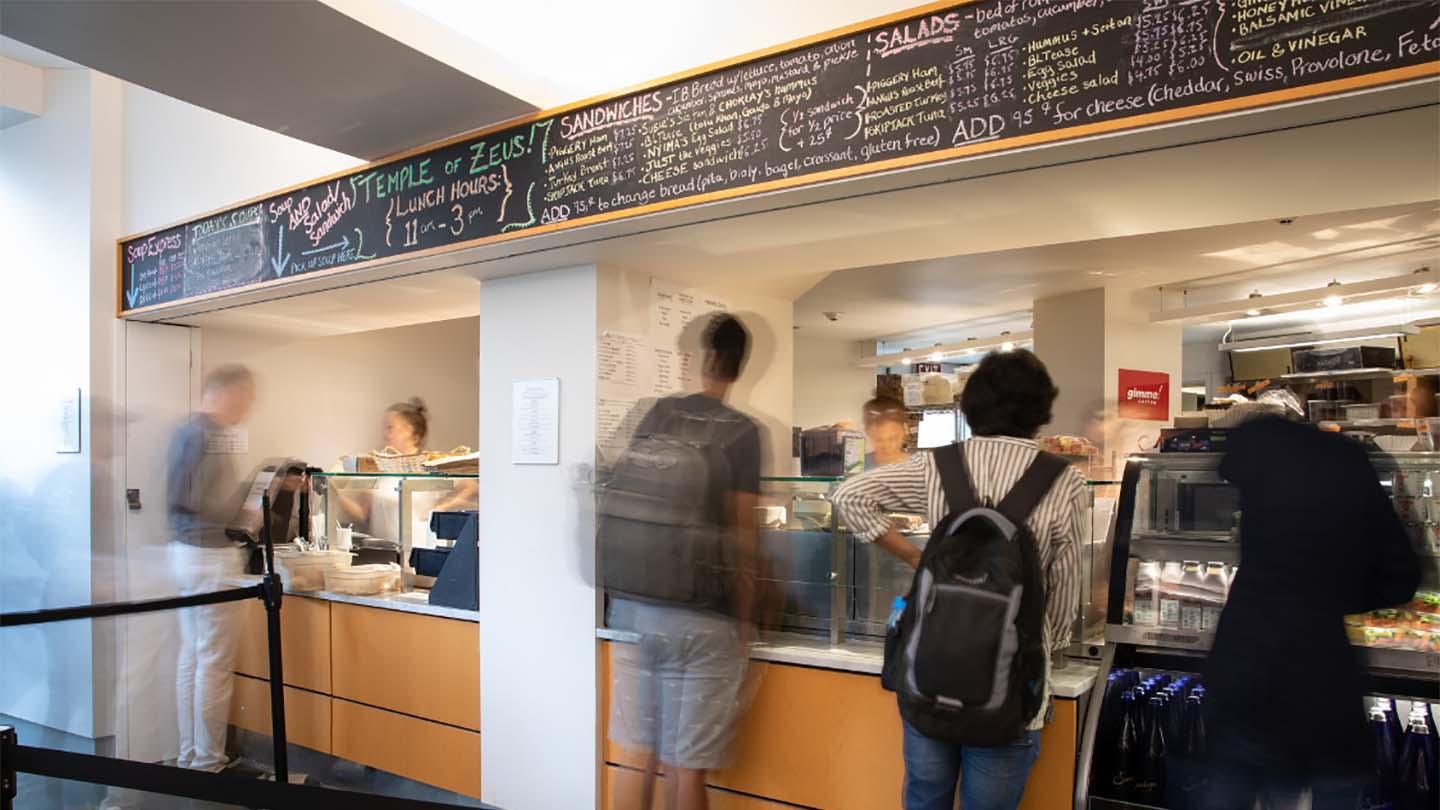 Temple of Zeus
Hours of operation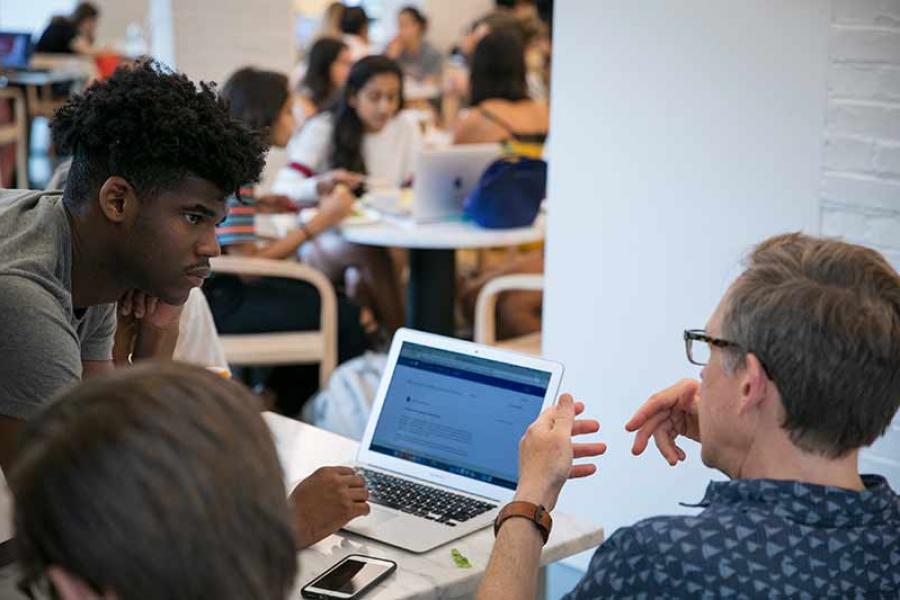 Spring hours of operation
Effective January 17, 2023
Monday-Friday: 8am-5pm
Lunch served 11am-3pm
These days, nearly 900 customers pass through the lines every day at the Temple of Zeus café in the atrium of Klarman Hall. That's a far cry from its humble origins in 1964 as a coffee and donut operation run by one of the building maintenance staff.
A meeting place for faculty, students
A meeting place for faculty, students
These days, you can find on the menu two or three creative soups, you can get a really healthy sandwich or salad with locally-sources breads, meats, cheeses and vegetables. You can find yogurt from Ithaca Milk, fruit in the summer from local growers and coffee roasted nearby. You can even find chewing gum that's better for you (but you can also still buy a donut or peanut M&Ms if you need a little sugar.)
"It started because students felt intimidated going to faculty members' offices for meetings, so they wanted a space to meet on neutral terms," said Henry Crans, director of facilities for the College of Arts & Sciences, who managed the café from 1979 to 1995, when it was housed in a long, poorly-lit room that's the current location of the Kaufmann Auditorium in Goldwin Smith Hall.
The café's name comes from the plaster casts that lined the walls of that space, replicas from the Temple of Zeus in Olympia that were purchased by Andrew Dickson White in 1881. Some of those statues still grace the Arts & Sciences Career Development Office in Goldwin Smith and the atrium in Klarman Hall.
Even though the space was furnished sparsely with recycled chairs from the Navy ROTC, it became immediately popular with students and faculty, Crans said, adding that famous faculty, including the late Archie Ammons, and chemistry Professor Roald Hoffmann, were regulars.
"Although it was basically a storage room converted into a coffeehouse, Temple of Zeus was definitely a cool place," said Bill Cowdery '73, M.A. '81, Ph.D. '89, supervisor at Cornell's Sidney Cox Library of Music and Dance, who visits Zeus at least once a day. "All of the top professors were there, and the top campus radicals."
Enriching the experience
Enriching the experience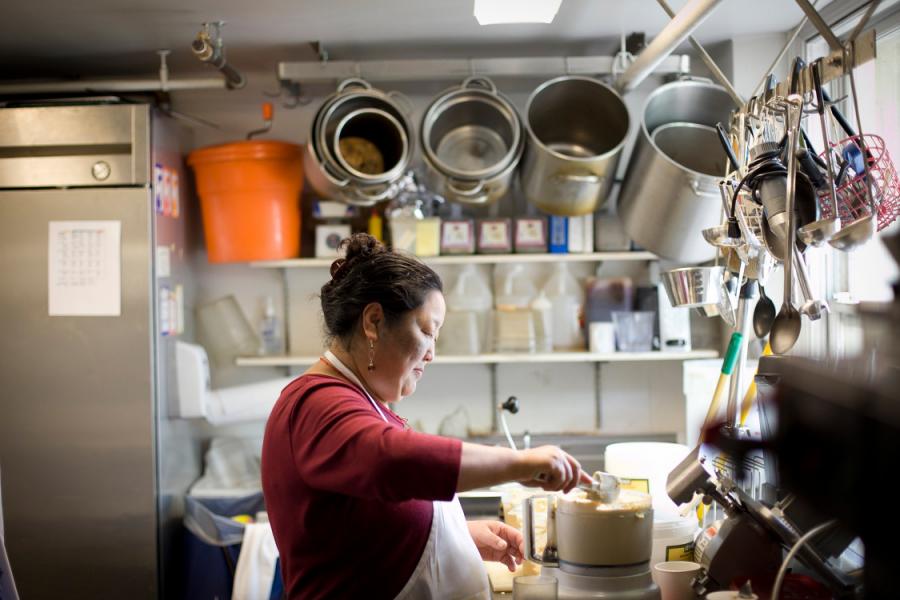 In 1993, the college hired Tom Walls from the Moosewood Restaurant to be the new manager and find a way to make the café break even, Walls said.
"I was flexible about how the menu and operations would evolve, but I knew that the food would be prepared fresh on the premises, and it would be an egalitarian and collegial work environment," he said, adding that he attracted international student workers by requiring his staff to have only a "rudimentary command of English."
Soon, Walls brought along Choklay Lhamo and Nyima Dhondup, who expanded the café's popular soup offerings, and in 1997, the café moved to the other side of the hallway in Goldwin Smith, an area that had housed the Records and Scheduling office and the College Registrar and today has offices for The Department of History of Art and Visual Studies and a Department of Classics Lab.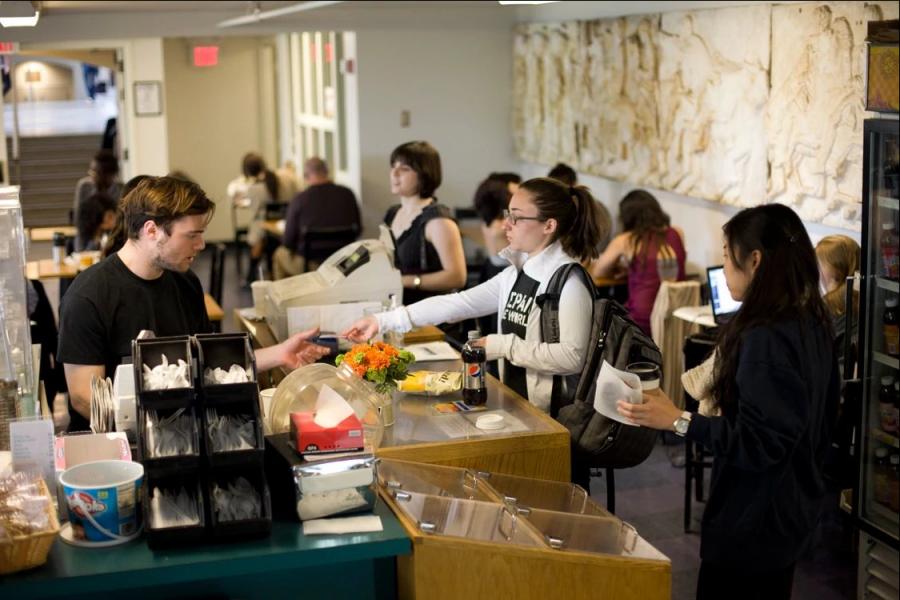 "In the new space, we were able to make sandwiches and salads to order, like a real restaurant, and within a couple years we were doing about six times the business that was typical of the old Zeus," Walls said.
That space was brighter, but small, with only about 40 seats, and the kitchen left a lot to be desired, with only two hot plates allowing Lhamo to make two five-gallon pots of soup each day. As a result, if you didn't make it over by noon or so, you would be out of luck for soup.
"Choklay's soup just took off," Cowdery said. "Suddenly there were long lines for soup and sandwiches."
Lhamo owned a restaurant in her home country of Tibet, before moving to Ithaca in 1996 and finding a job making vegetarian food at Moosewood, where "everyone treated you like family," an atmosphere that Walls started at the café and that she and Dhondup also encourage. She enjoys making spicy foods, including soups. Customer favorites include East African stew, Thai carrot and tomato garlic, she said.
New space, no shortage of soup
New space, no shortage of soup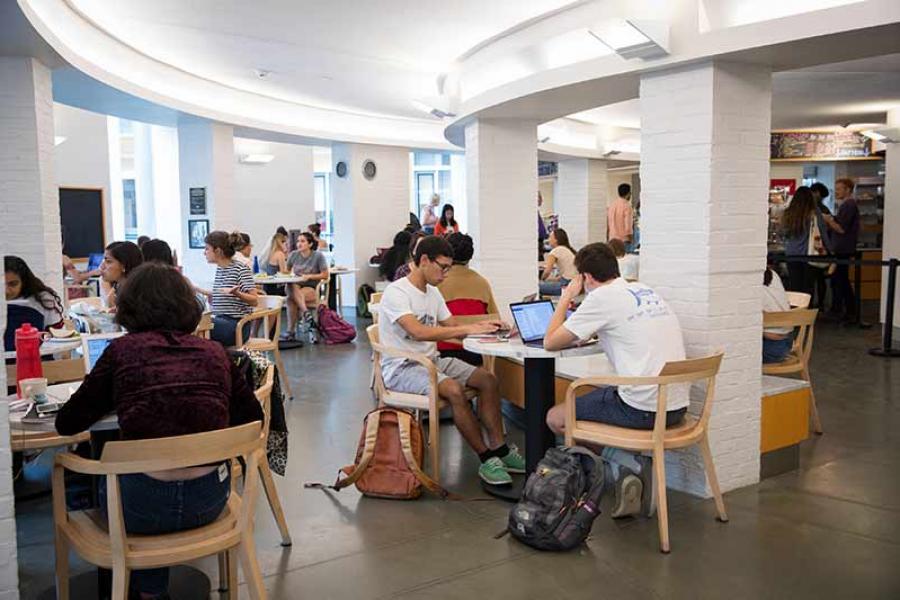 Since the café moved to the Klarman atrium in 2016, its business has more than tripled, said Keith Mercovich, the current café manager, who took over that job when Walls retired in 2016. Mercovich manages four full-time staff, two student managers and 50 student workers. The atrium has 170 seats, which are often full.
"We offer food that's not offered anywhere else on campus," Mercovich says, so the café attracts a crowd interested in eating healthier, local foods. Since he's started, he's focused on expanding the number of local foods and ingredients and added an espresso machine.
"I'm pretty passionate about food and what's in it," Mercovich said. "I want everything here to be something I would eat."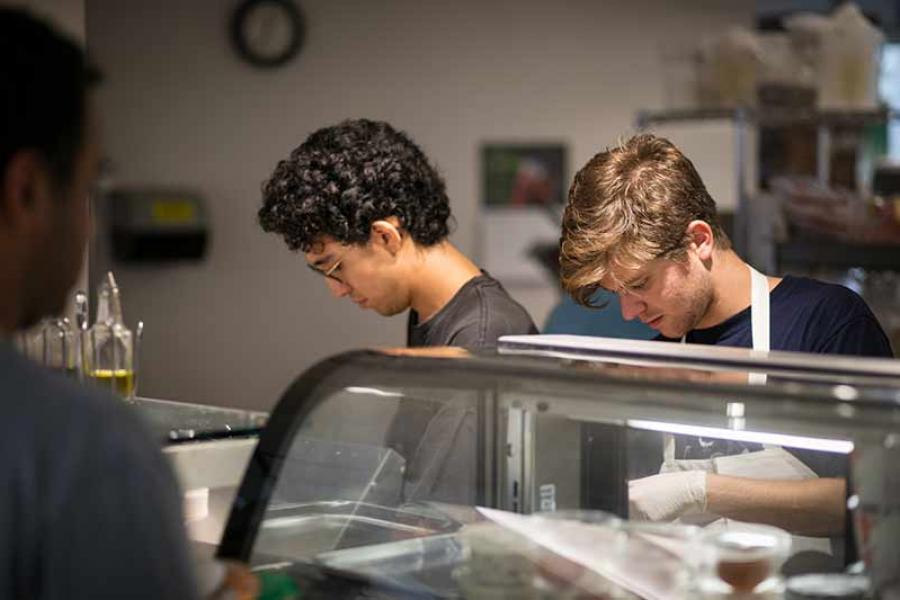 The soup is a main draw for many regulars.
"This is the place I go to when I have to meet my graduate students to talk or meet faculty from another department," says pianist Xak Bjerken, a professor of music who admits he can eat a quart of soup without a problem. He's also a big fan of Copper Horse Coffee, a local coffee roaster in Brooktondale, and the café's deal on coffee for people who bring their own mug.
Zeus in the news
Temple of Zeus in the news